Are your tennis courts hazard free and safe? Post padding is an important health and safety feature in any court or sports hall. Completing a
Tennis Court Risk Assessment
 and adding padded post protectors will help to show your club or schools commitment to health and safety - both to your members and to organisations such as the Lawn Tennis Association and insurance companies. Tennis post pads and safety pads provide a practical and cost effective safety solution to covering exposed posts or floodlights within tennis courts.
Easy to Order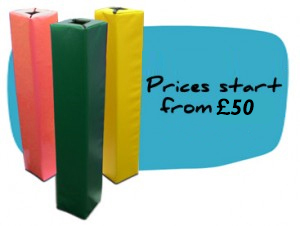 Use our easy
Online Order Form
to find out prices or to order one of our popular sized Tennis Pads.    
Contact Us
to request a quote for bespoke sizes or branded safety pads. For advise please telephone +44 (0)1536 446392.
Our high quality UK manufactured tennis post pads are:
Easy to fit – they simply Velcro on and off
Fully waterproof and produced from industrial strength vinyl
Fire retardant making them suitable for indoor or outdoor tennis courts
Available in an almost limitless range and are all custom made to fit any size post
Available in a range of 16 colours.
Colours available: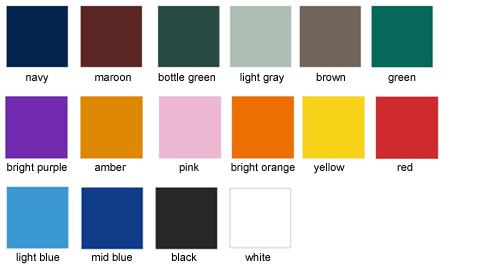 Bespoke Tennis Pads
We supply tennis court safety pads suitable for covering exposed posts, corners, walls and fence posts. These are custom made to your required sizes and suit almost any application e.g.
Post Protectors for Flood Lights or posts Exposed tennis posts or flood lights within courts can be covered with round, square or rectangular post pads in any size you require.

 

Safety Pads for Fence Posts You can chose two or  three sided post protectors to cover posts which may protrude from a fence or wall. These are easily secured with industrial Velcro which can be face fixed or in the form of wrap around ties. Alternatively eyelets can be added to allow them to be tied in place.

 

Pads for Corners Exposed corners can be protected with two sided pads.

 

Pads for Walls and fences Mesh fences and other walls can be made safer with padding. These safety mats can be easily attached via Velcro or eyelets to help against impact.                    
For further information please click on the following links
Post Protectors Specification
Frequently Asked Questions
Product Brochure
Bulk Orders
If you're ordering any of our items in bulk, we can sometimes offer further savings beyond our already discounted online prices. To find out if we can offer a discount for your bulk order please
Contact Us
with details of what you want to order and the quantities.
Testimonials – What do our customers say about us.
Average rating:
23 reviews
Jan 27, 2022
Post protection has arrived and been installed safe and sound thanks Heidi. Looks great! Superb product! Excellent service!
Sep 23, 2019
Difficult fix for our new tree house but with the support of post protection we were able to configure the right solution.
Sep 23, 2019
Setting up my own studio was a daunting task and with health and safety being a top priority knew I needed to fit post padding. The customer service was great, answered numerous questions, didn't fluff details and were realistic with timings of delivery even knowing I'd left it late they kept me updated on the progress of my order. Aside from the H&S aspect they enhance the look of the space. Thank you for your service.
Jun 13, 2018
From:
Witcham Equestrian Centre
The staff were very thorough and patient with what turned out to be a rather difficult job. They put up with endless questions and queries. Everyone I spoke to was always very friendly and helpful and I am really pleased with the finished product. It was a pleasure doing business with you. I would highly recommend you.
Jan 22, 2018
From:
Conewood Street Children's Centre
THANK YOU we love our padded wall, it fits perfectly, it is beautiful and the children can now play around safely. We are very pleased so we are going to tell everyone about you and we will contact you again next time we need to add some padding somewhere.