Our post pads and safety mats
are made to order in an almost limitless range of sizes
and colours. Some examples of popular sizes for post protectors are listed below but if you are looking for another size we will make post protectors and safety pads to your exact requirements; please
Contact Us
to request a quote. You can also
order online following this link.

60mm square, 1m high: £40.83 ex VAT

60mm square,

1.5m high: £60.95 ex VAT
81mm square, 1m high: £46 ex VAT

81mm square,

1.5m high: £69 ex VAT
100mm square, 1m high: £50.60 ex VAT

100mm square, 1.5m high

: £76.48 ex VAT
81mm by 150mm rectangular, 1m high: £56.93 ex VAT

81mm by 150mm rectangular, 1.5m high

: £85.10 ex VAT
80mm diameter round, 1m high: £59.80 ex VAT

80mm diameter round, 1.5m high

: £90.28 ex VAT
100mm diameter round, 1m high: £71.30 ex VAT


100mm diameter round, 1.5m high

: £107.53 ex VAT
Colours: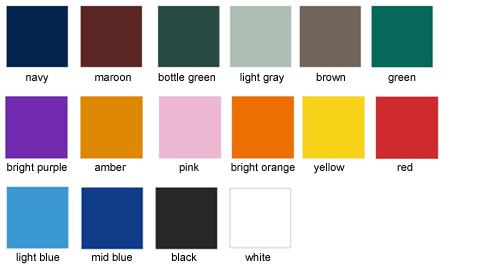 Size guide: length x width x thickness measured in centimetres. For prices please call us on
01536 446394
.
90 x 90 x 5cm
120 x 90 x 5cm
150 x 90 x 5cm
180 x 60 x 5cm
180 x 90 x 5cm
180 x 120 x 5cm
Colours:

Safety Pads & Wall Padding
Velcro can be sewn to all four sides to allow mats to be joined together. Alternatively we can add eyelets to allow the safety pads to hang up after play or be used for wall padding.

We can make play mats, safety pads and wall padding to suit your exact requirements. For a quotation please
click here
and choose custom size from the dropdown box. Please note all orders are subject to a standard delivery charge as follows: Prices for Standard Sizes 1-6: UK mainland £20 +VAT Please contact the sales office on
+44 (0)1536 446394
to confirm delivery charges to offshore UK destinations.

Testimonials – What do our customers say about us.
Average rating:
23 reviews
Jan 27, 2022
Post protection has arrived and been installed safe and sound thanks Heidi. Looks great! Superb product! Excellent service!
Sep 23, 2019
Difficult fix for our new tree house but with the support of post protection we were able to configure the right solution.
Sep 23, 2019
Setting up my own studio was a daunting task and with health and safety being a top priority knew I needed to fit post padding. The customer service was great, answered numerous questions, didn't fluff details and were realistic with timings of delivery even knowing I'd left it late they kept me updated on the progress of my order. Aside from the H&S aspect they enhance the look of the space. Thank you for your service.
Jun 13, 2018
From:
Witcham Equestrian Centre
The staff were very thorough and patient with what turned out to be a rather difficult job. They put up with endless questions and queries. Everyone I spoke to was always very friendly and helpful and I am really pleased with the finished product. It was a pleasure doing business with you. I would highly recommend you.
Jan 22, 2018
From:
Conewood Street Children's Centre
THANK YOU we love our padded wall, it fits perfectly, it is beautiful and the children can now play around safely. We are very pleased so we are going to tell everyone about you and we will contact you again next time we need to add some padding somewhere.